As we near year-end and reflect on all that we have been through as a business, we see how a company's character and strength often are defined during difficult times. Some organizations with a shaky foundation may crumble under the pressure. Others, locked in on the solution and how to help, do whatever it takes to rise to the challenge. Leaders lead, teams roll up their sleeves, and everyone gets to work until the job is done, despite the obstacles standing in the way.
Our legacy company, American Express, has weathered a number of difficult situations during its 170-year history. The exemplary way it has supported people during these past plights has set a high standard for our company, American Express Global Business Travel (GBT). As part of the American Express family, we go to exceptional lengths to take care of our clients during challenging situations, such as the one we're facing today.
To give you a clearer understanding of American Express' superior service ethos, which permeates every fiber of our own customer care, we asked Ira Galtman, Director, American Express Corporate Archives, to share a few examples of how the company has gone above and beyond for customers during challenging times.
Literally heading into battle
The first big test came during the U.S. Civil War (1861–1865) when American Express was a little more than a decade old. By that point, American Express had established itself as one of the leading express delivery shippers in the country, a company people entrusted to transport their most valuable possessions. During the Civil War, the government enlisted the help of American Express to transport vital supplies and parcels to army depots.
Potentially risking their lives, "American Express messengers ventured onto the battlefields to deliver packages and letters to soldiers and to accept packages and mail for delivery to dying soldiers' families," Galtman said.
In 1864, upon the request of New York State's government, American Express delivered election ballots to Union soldiers from New York, enabling them to vote in a watershed election: the re-election of President Abraham Lincoln, which ultimately determined if the war would persist or peace would prevail.
Helping travelers stranded during war
The sudden outbreak of World War I (1914–1918) caused a severe disruption to transatlantic voyages, leaving approximately 150,000 American tourists stranded in Europe. Still, American Express was there to help get them back home.
Even though American Express hadn't yet officially launched its travel services (that would come a year later), it had become a destination for tourists after introducing its signature Travelers Cheques in 1891. When American tourists would come in to cash their cheques in American Express offices across Europe, they began asking for travel tips, grateful to have a conversation in English where little of the language was spoken. In an unofficial capacity, American Express employees began giving travel advice, making hotel recommendations, and partnering with local tour companies to help customers.
"It wasn't our intention to become a travel company at that time, but being the kind of company we are and based on our service ethos, we didn't really want to turn them away either, so we tried to help them as best we could," Galtman said.
Thus when World War I erupted, American Express was already known as a helpful resource to travelers. With customers lining up every day outside its offices, American Express extended its hours to make sure each one of them had their travelers cheques cashed. That was one of the few ways tourists could obtain money at the time due to many European financial institutions halting payment against any form of foreign paper.
In addition, American Express, along with several U.S. banks, arranged for the shipment of nearly $6 million worth of gold (the equivalent of $155 million today) to Europe to enable tourists to settle their bills and find their way home. American Express also helped to arrange safe passage back to America for many – paving the road for the superior duty of care services GBT is known for today.
"Customers remembered how we helped them during this time for years to come," Galtman said.
Still working under siege
American Express' commitment to provide exceptional care during challenging circumstances was apparent during World War II (1939–1945). Throughout Europe, its travel offices continued operating until the last possible moment in countries about to be invaded – often long after American embassies and consulates had been ordered to evacuate – to help customers secure financial and travel documents.
Despite air attacks, American Express colleagues continued to work frantically, making travel arrangements for Allied military leaders and diplomats as well as helping to evacuate British children to North America.
"I want to highlight that these were challenging conditions, and maybe that's obvious," Galtman said, "but our colleagues really went above and beyond."
Here's a photo in the archives that encapsulates this point perfectly. It shows an American Express employee outside the London office after the area had been bombed. Amid the wreckage, he's putting up a sign that says: "Open for business."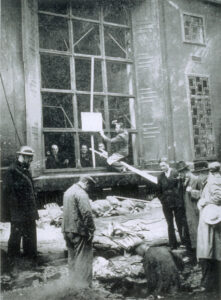 Scrambling to reschedule trips
There are many ways American Express helped clients in the aftermath of the attacks of Sept. 11, 2001, but several stories from the global business travel division (which 13 years later would become GBT) stand out. For instance, there's one travel counselor who worked around the clock for a week to get a client's 300 traveling employees back home safely, coming in as early as 5 am and staying past midnight to get the job done. She even slept a few nights in the office to be more accessible to 45 employees stranded in Europe and ultimately arranged a charter flight to get them home.
Meanwhile, on the other side of the planet, one of American Express' travel counselors in Australia learned of the terrorist attacks around 1:30 am local time, a few hours after the planes had hit the Twin Towers. She immediately rushed to the office to help the lone After Hours employee on duty, who was inundated with inquiries. Together, they worked through the backlog before this travel counselor began contacting and assisting other travelers with imminent trips.
Then in Cairo, American Express' Tourism & Retail department was about to kick off a corporate event for a French company. When its event coordinators learned about the attacks, they quickly switched gears from running the meeting to ending it, working through the night to tackle the logistics of notifying and transporting nearly 2,000 of the client's employees from eight hotels through a series of complex land and flight connections. They had to contact charter companies, aviation and civil authorities, and government agencies to pull it off. Still, within 24 hours, the client's employees were back home in France without delay or issue – a remarkable logistical feat, even in the best of times.
GBT is here for you now
As Galtman said, "It's one thing for companies to be able to deliver a service during normal times. It is quite another to be able to do it during challenging times based on the stress levels that are there for everybody concerned and how colleagues need to be resourceful when conditions are different."
That certainly applies to the current situation we are facing and how GBT has handled it. Our teams across the world have demonstrated great resourcefulness and tenacity to help bring travelers back home when the options were very limited. According to our April 2020 internal reporting, we mobilized globally to help bring more than 35,000 travelers home, processed nearly 125,000 refunds, and monitored 140 country bans daily to keep clients informed – all while swiftly shifting travel counselors to a work-at-home environment to ensure their safety and our ability to provide extraordinary care during the pandemic.
As companies prepare for how to safely send employees back on the road, we've been helping clients strengthen policies, bolster duty of care programs, and map out plans on how to forge ahead.
We are 100% committed to backing you as you navigate the way forward. Hence, we just launched Travel Vitals™, a dynamic travel briefing platform that aggregates data from hundreds of sources and allows users to search the latest travel guidelines at every key touchpoint of a journey so that employees – and company leaders – can feel confident with their return to business travel.
If there is anything else we can do to support you during this time, please do not hesitate to contact your GBT representative. Despite all that's happening in the travel industry, we want you to know that we have taken the necessary actions to weather this storm and will emerge an even stronger company. We remain #withyou.