New features deliver insights from traveler feedback and Travel Vitals™ to help companies get travel ready
New York – June 29, 2021 – American Express Global Business Travel (GBT) announces new features in its proprietary reporting and online booking solutions to help companies get back on the road. The enhancements will use information from post-trip traveler surveys, Travel Vitals, and GBT's own extensive set of travel data to help increase confidence in travel.
Mark McSpadden, VP of Product Strategy at GBT said: "Business trips are less predictable than before the pandemic. To best adapt their programs, travel managers are looking for new ways to get real insights into the traveler experience and deliver up-to-date COVID-related information to travelers at every point in the journey. We're expanding on our omni-channel and contextualized solutions to meet those needs."
 Getting insights directly from the travel experience
GBT is offering travel managers new insights taken directly from their travelers' experiences to help them make informed decisions and reassure employees as they start traveling again.
Post-trip traveler surveys collect information directly from travelers on an opt-in basis to create an analysis of flight and hotel experiences. Travel managers can evaluate suppliers for appropriate safety and health standards and make changes in policies relating to preferred suppliers if travelers' expectations are not being met.
Travel managers will be able to see which destinations are open for business travel and update their travel policies and pre-trip approval processes accordingly. This can also help instill confidence in travelers as they get back on the road.
 Itinerary-specific information at every stage: booking, departure and return
GBT has expanded the ways it brings timely trip-specific information to travelers. For travel managers, this provides an easy and efficient way to keep up with the rapidly evolving landscape of COVID restrictions and requirements.
Neo™, GBT's online booking and expense management solution, now automatically surfaces itinerary-specific COVID guidelines at the time of booking. Travelers will be able to easily see the latest information from Travel Vitals on restrictions and health risks to make educated booking decisions, without having to navigate outside of the booking tool.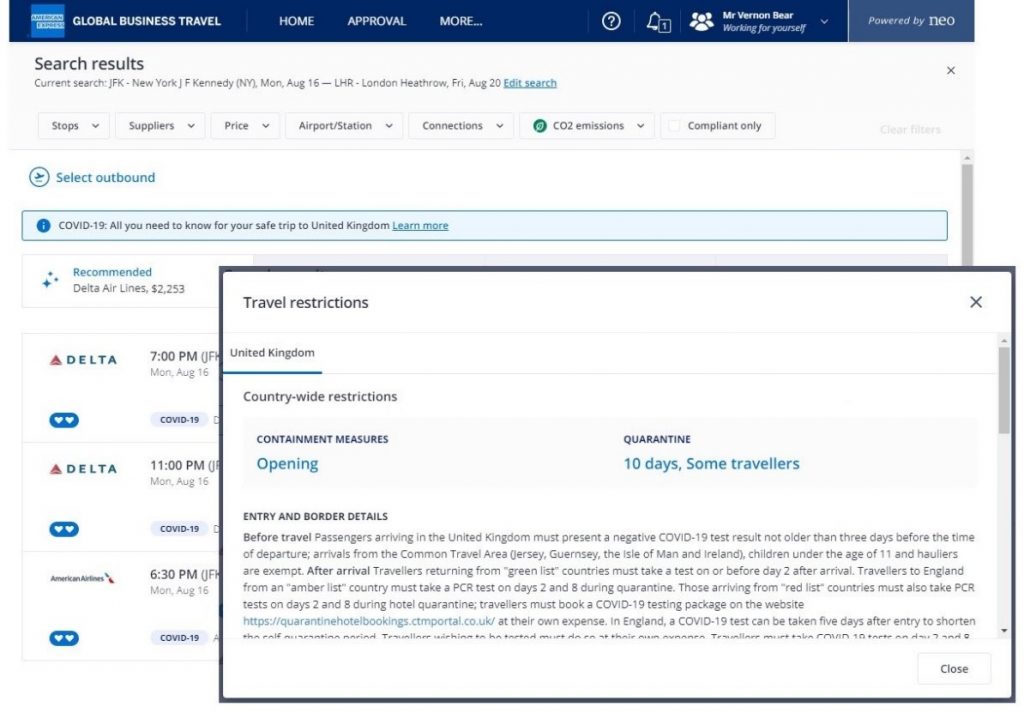 As their journey progresses, GBT travelers can receive proactive notifications with information relevant to each stage of their trip. This includes alerts such as a 48-hour reminder on what COVID testing or vaccine status is required before the departure, or what is needed before returning.
Travelers automatically receive alerts by email and have access through their preferred online channel whether it is the Amex GBT Mobile App, or the desktop GBT Account platform.
Over the phone or via any of the GBT chat channels, GBT travel counselors can also guide travelers through relevant COVID information sourced from Travel Vitals.
These enhancements are part of GBT's ongoing #TravelReady initiative. The publicly available #TravelReady website provides resources for travel managers, travel arrangers and travelers globally. GBC, GBT's consulting arm, also partners with clients around the world to help them tailor their travel programs for the return to travel. GBC's data-driven benchmarking enables clients to assess their progress against global best practices.
GBT's post-trip traveler surveys and Travel Vitals in Neo are now available worldwide. The Live Travel Dashboard and email notifications are initially available in the U.S. with plans for phased rollouts to GBT clients in other parts of the world.
###
 About American Express Global Business Travel
American Express Global Business Travel (GBT) is the world's leading business partner for managed travel. We help companies and their employees prosper by making sure travelers are present where and when it matters. We keep global business moving with the powerful backing of travel professionals in more than 140 countries. Companies of all sizes, and in all places, rely on GBT to provide travel management services, organize meetings and events, and deliver business travel consulting.
Visit amexglobalbusinesstravel.com for more information about GBT, and follow @amexgbt on Twitter, LinkedIn and Instagram.